Lady Grniis runs the "BEST YAHTZEE SITE ON THE INTERNET"
Yahtzee Games are Tuesday and Thursdays
8:00 pm Central Time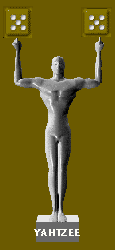 RULES FOR PLAY
PLEASE CHECK IN WITH HOST BEFORE PLAYING
YOUR HOSTS FOR TONIGHT ARE: Lady Grniis, LadySara, Red_Nine, and TalkativeGuy

READ THESE RULES FOR PLAY...
OPPONENTS - Host will assign players
TWO players per board, highest TOTAL score wins and advances to next round.
HOST MUST VERIFY THE TOTAL SCORE BEFORE PLAYERS QUIT THE GAME
ROUND's - Round one opponents play three games, thereafter two games.
BOOTED...NOTIFY HOST and RESTART GAME...The last one doesn't count. If Bootee does not return then round is forfeited and remaining player advances to next round.
BYE - An unpaired player who proceeds to the next round as if having won.
NO SHOW...Forfeit game to other player if not show.
MONTHLY...Playoff (3 games) held first Tuesday of month between Weekly winners to determine previous month's winner.

Scroll down the page for winners and don't forget to sign in please.